Wire Transfer Fraud Prevention
Send Wire Info
Lock your company's wire instructions away in our secure portal.
Grant your customers access to the specific instructions they need.
NEVER share wire instructions via email.
Automatically include multiple warnings, waivers, and notices for educating your customers.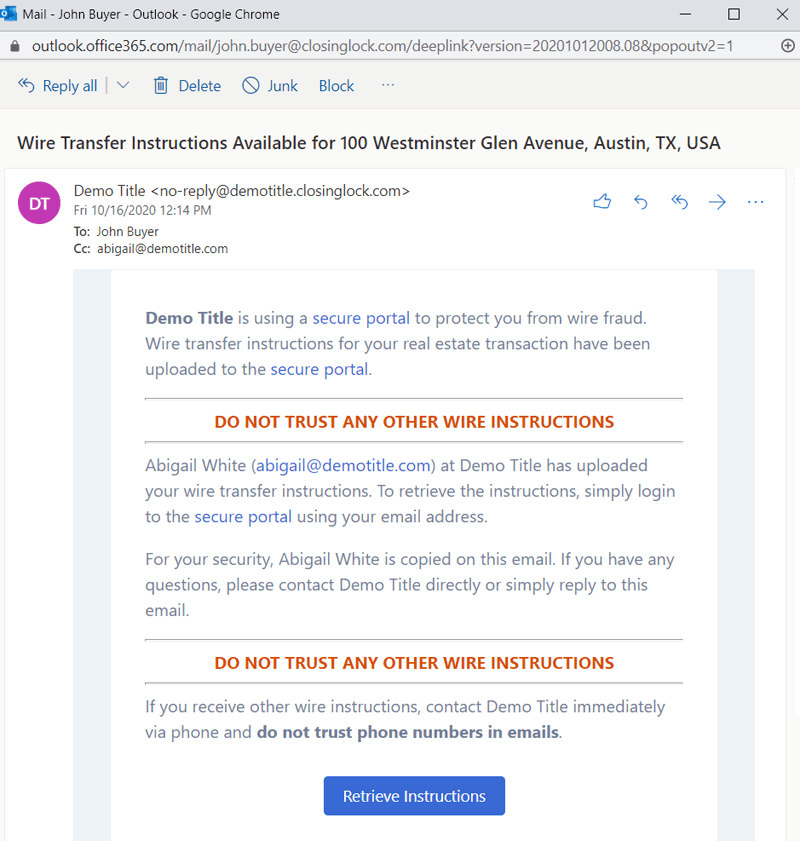 Receive Wire Info
Bank Account Verification (BAV)
Verify customer bank account ownership with names, phone numbers, addresses, and emails in real time before sending out any of your company's funds.
Instantly authenticate account and routing numbers of your customers.
Bank credentials are never stored or sent to Closinglock servers.
Works with more than 11,000 financial institutions in the US, Canada, and Europe.
Q&A
Why should I use Closinglock for wire transfer fraud protection?
Not only does Closinglock offer a secure portal that allows closing and settlement companies to share wire instructions and earn some much deserved peace of mind, the Closinglock system also sends out automatic email/phone/text notifications, has option multifactor authentication, and optional custom branding. In addition, the Closinglock system uses wire fraud warnings and pop ups to conveniently and consistently educate your customers throughout the entire process.
Does this add any extra work/time for my customers?
The Closinglock system is simple, intuitive, and easy for your customers to use. With simplicity and ease of use in mind, Closinglock developed a system which allows your customers to gain secure access to wire instructions without having to register, create a password, or download an app. Closinglock's portal was specifically designed so your customers can securely send their wire instructions and personal documents back to you, along with legally binding electronic signatures.